Economic Development Commission
To access economic development support and learn about what developments are going on in the region, visit the Economic Development department's website by clicking here.
The Economic Development Commission of the Regional District of Kitimat-Stikine focuses on policy affecting economic development in the region and has funds for economic development research and marketing. The Commission is comprised of the Regional Board Directors for the six electoral areas and municipalities of Stewart, Hazelton and New Hazelton.
The main objective of the Commission is to support long term economic stability and maintain the current regional economic growth that we are experiencing. In order to create stability and continue on this path of economic growth, the Economic Development Commission has set out four priorities to achieve the economic goal:
Tourism Development: Partnerships with

Northern BC Tourism Association

and other local Destination Marketing Organizations have led to several tourism marketing efforts employing print and digital media to promote the scenic, wilderness, recreational and cultural resources of the Northwest region.
Business Retention and Expansion: In an effort to recognize and promote locally owned, non-franchise businesses within the Regional District, the Commission has supported an effort by the

Northern Development Initiative Trust

to spread several programs. These programs will help drive more local business activity and generate new jobs and income for the region.
Industry Attraction:In order to promote responsible industrial development and market our region to potential investors, the Economic Development Commission has dedicated funds to work on a variety of projects.
Regional Economic Development Support: Several communities located in the Regional District boundaries lack the capacity to engage in economic development activities on a regular basis. The Economic Development Commission has fulltime staff dedicated to helping communities manage economic development needs.
Infographics: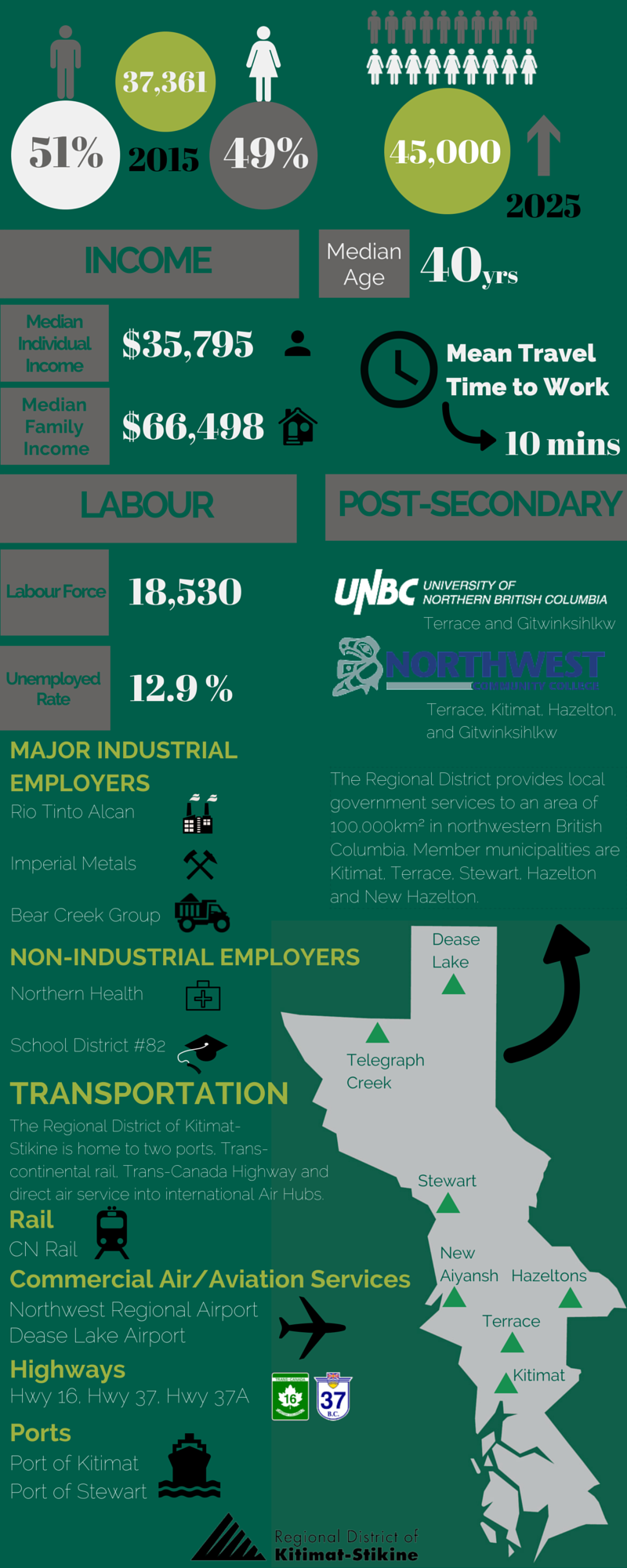 Relocation Guidebooks
The relocation guides for communities in the Regional District of Kitimat Stikine were developed as a resource for attracting people to the area including healthcare and education professionals. The new series of guidebooks will have in depth information for potential newcomers to make a smooth transition into one of our communities. With different sections on services and amenities, top 5 things to do, transportation, and a list of community contacts, newcomers and people interested in the area will be able learn more about the community specific information in this new series of Guidebooks to communities in the Kitimat-Stikine Region.
Follow the Economic Development Commission on our social media pages.